How it works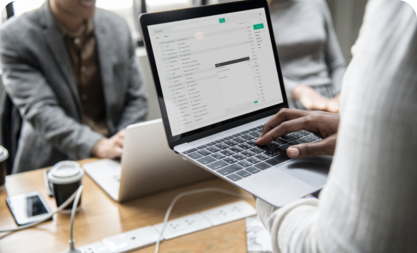 Start now
Sign up and complete your detailed profile. This will help other users find you based on search criteria. The basic profile registration is free.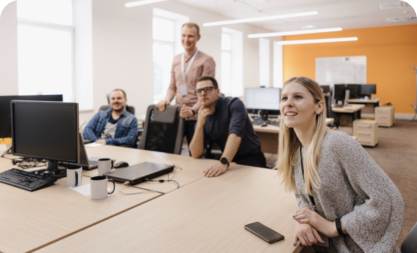 Search for a project or a team
Browse the user directory, search for a relevant project, a partner, or a professional, based on your specific needs. Request to open contact information. Get in touch, share ideas, or create your network.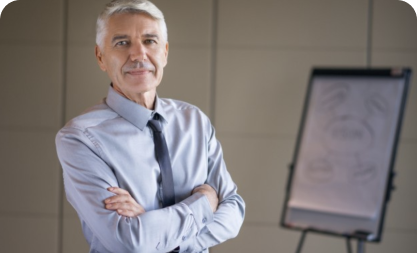 Search for an investor
If you already are working on a project and have a team, take a moment to explain all the relevant details. A high quality presentation will attract the attention of investors. You can also search and reach out to potential investors registered in the system.
All investors
All specialists
New vacancies
Questions and answers
Most popular
How to create an account and a profile?
To submit a request to any user, please fill out at least one questionnaire. To submit a request to the Investor, you must have a project
In fact, your profile identifies your search goal on our site.
Project - you have a business project or a business idea.
Specialist - you have experience and competencies that you want to apply for the development of projects or business ideas.
Investor - you are ready to invest in interesting projects.
How to choose a role? Can I have multiple roles?
Each questionnaire matches the role. You can fill in one or more roles. For each role you need to fill out a separate profile and publish it.
Is the interface language different from the user profile language?
Interface language
We support 3 interface versions: Ukrainian, Russian and English. Button Changing the interface language in the upper right corner. You can change the language at any time.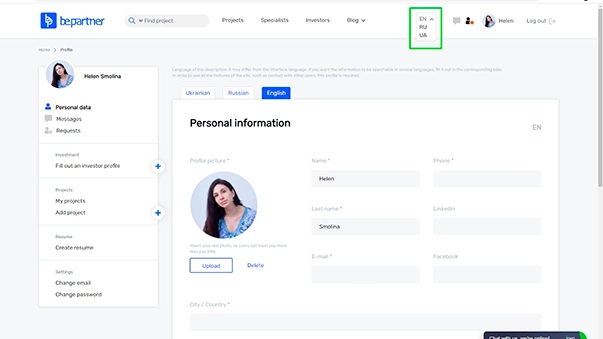 Profile Language
When filling out your personal data and profile, you can use all 3 languages ​​or several of your choice. If you want your profile to be displayed in the catalog in Russian and English, for example, then you need to fill in personal data in both English and Russian. Please note that all points must be filled in the profile; if the profile is partially filled, it will not be saved.
In your profile, select the appropriate profile language tab, and fill in your details in each of the languages ​​you need.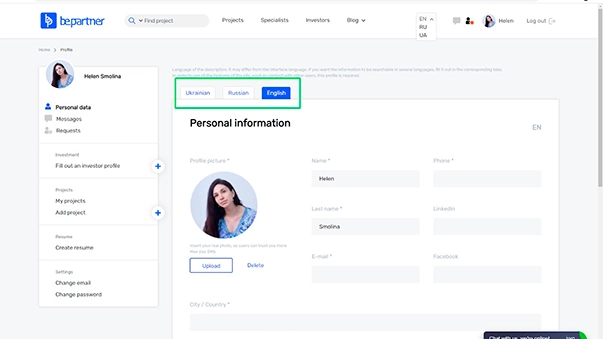 Why fill out the profile?
To publish a request you need to fill out a profile corresponding to the role or several profiles depending on your purpose. Information about you will be displayed in the tab of the "Projects" catalog - if you are the Initiator, "Experts" - if you are a Specialist, "Investors" - if you are an Investor. Your published profile will be available to all users of the site. But only registered users can contact you.
If you have a completely completed profile, you can establish contacts with other users. In order to contact the Investor, you must have published at least one of the projects that you can refer to when requesting the Investor.
How to submit a request to a user of interest
When sending a request to a user, select one of the roles and be sure to supplement it with a cover letter so that the user immediately sees your offer. If the questionnaire for the corresponding role is not filled out, it will not be active and you will not be able to choose. To request an investor, select the Initiator role and add the project that you want to submit.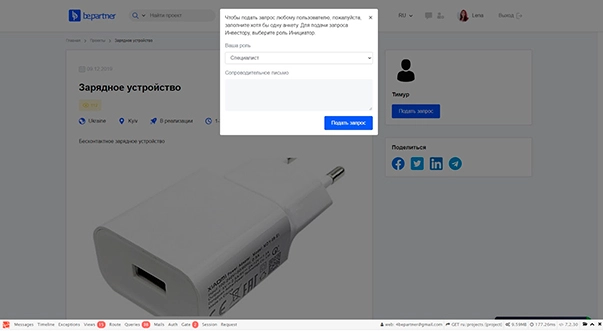 If you notice a mistake in the cover letter or simply change your mind about sending a request, you can withdraw it and, if necessary, make a new one.
In the "requests" section, you can track the status of the requests you submitted, and the "notifications" section notifies you of new incoming requests and messages.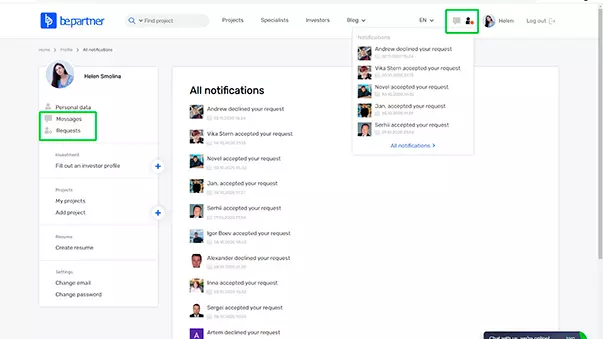 Why is the project photo not displayed in the catalog?
If you have published a project in the Basic package, it will be placed in the directory after the Premium and Standard projects and with limited display as "community project"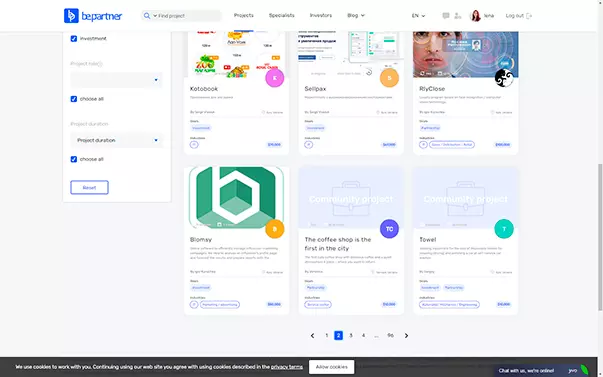 General
I am an investor, how do I select projects with bepartner?
For any communication on the bepartner platform, you must register.
Follow these easy steps:
Fill in your contact details in one or all three languages: Ukrainian, Russian and English. (English is auto-translated).
Fill in your investor profile.
Publish your profile, which will then be visible to other site visitors. From there, you will be able to submit requests to project initiators as an investor.
1) Function: Search for interesting projects among already published ones by selecting certain parameters (project stage, budget, territory, etc.) and familiarize yourself with information about the projects' details.
If something looks interesting, continue the dialogue by submitting a request to the founder of the project, supplemented by a cover letter.
Once the initiator (founder) of the project accepts your request, you will be able to chat without any restrictions and see their contact details. A notification message will be sent to the email you specified at registration when there is a reply. Or go to "My inquiries" directly from your profile https://bepartner.com.ua/cabinet#.
2) Option: receiving notifications about projects in your focus of interest.
In order to receive notifications about projects that you may be interested in, please make sure you tick that corresponding field when filling out the investor profile.
Read all requests from projects in messages. You can go to the project profile, read the information about the project, accept a request to start a conversation or reject the request if there is no mutual interest.
In business, as in life, it is good to have a companion who understands you and shares your vision and passion. Working alone can mean a greater share in the company and a greater ability to make decisions, but having a co-founder has its advantages. After all, the startup founder's team must have experience in all areas of the business.
How do you search for a partner with bepartner?
To begin with, you need to register and fill out your profile: answer a few questions and specify information about yourself according to your chosen role.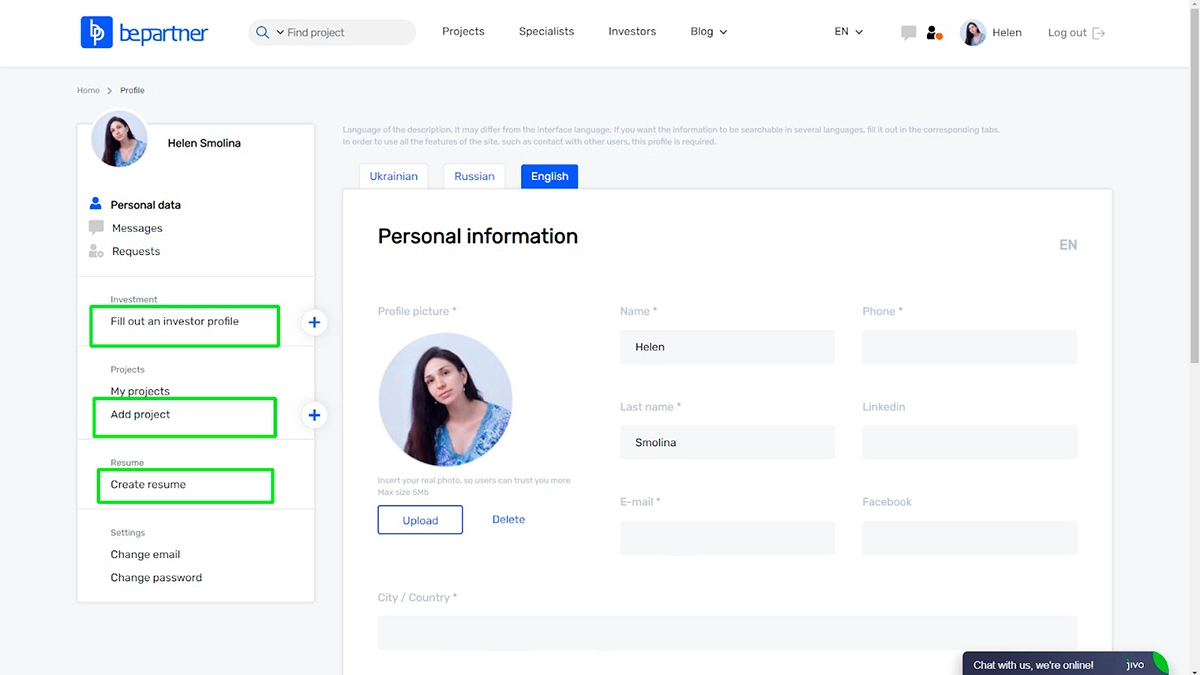 After filling in the information about yourself, you can search for partners in the following catalogs: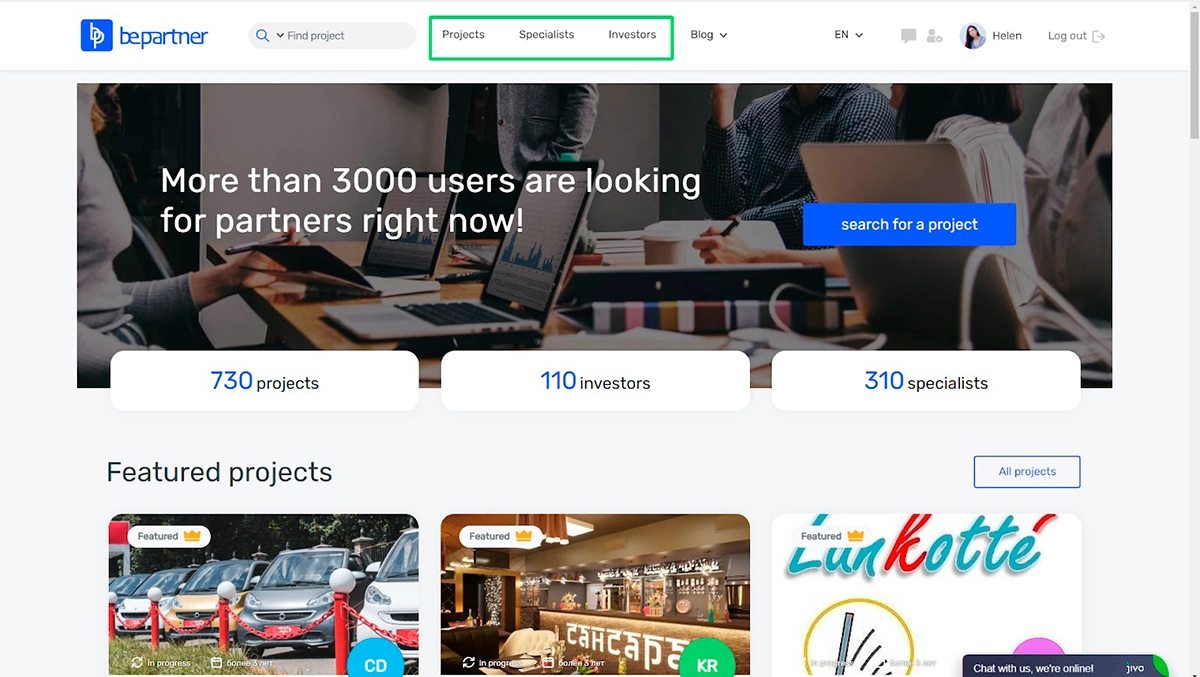 PROJECTS: look among the founders of projects with existing businesses, ideas and startups. Sort by direction of activity, stage, and other business parameters.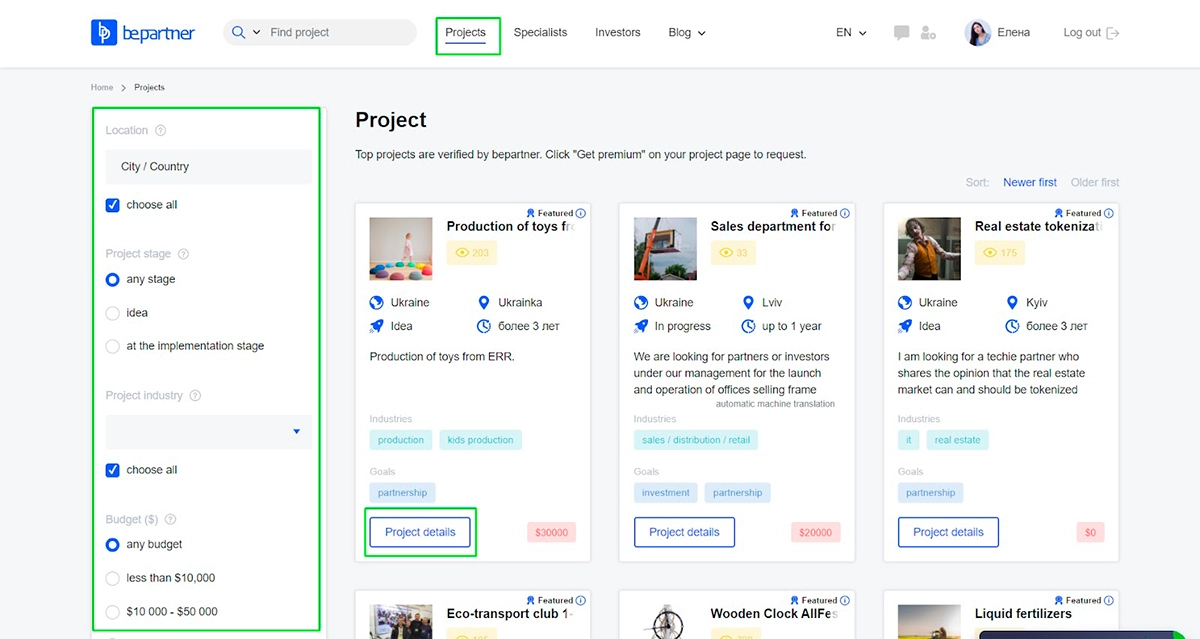 SPECIALISTS: Sort by competence, geography and type of collaboration (partnership or employment).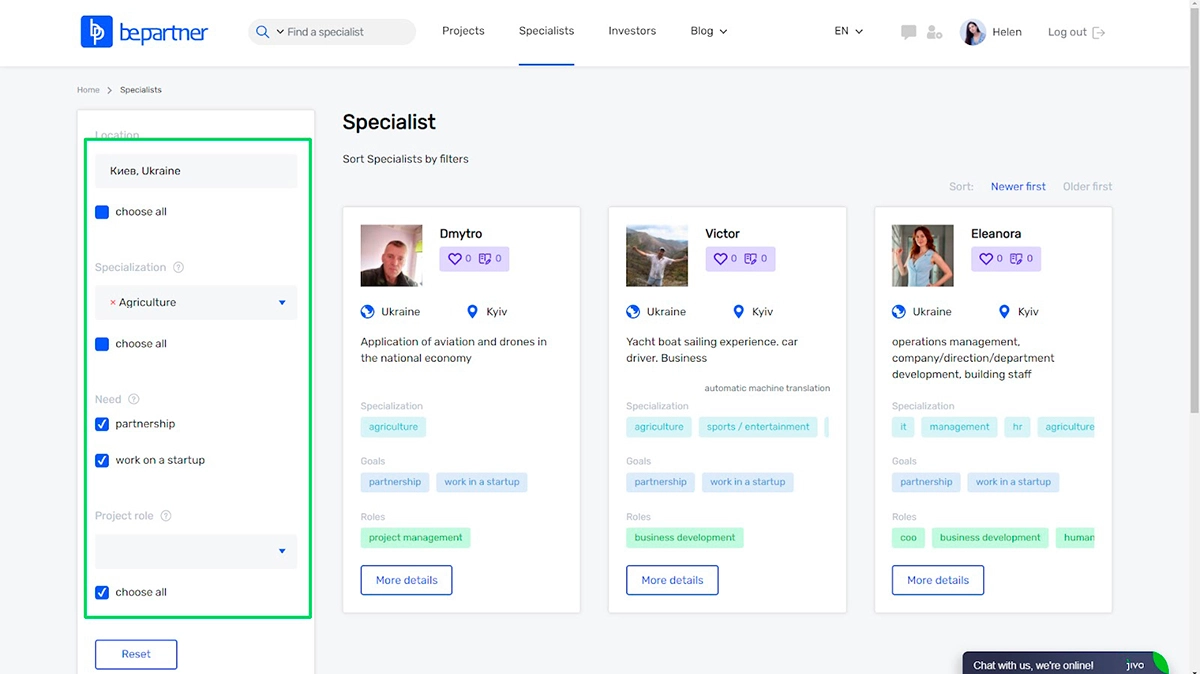 INVESTORS - send your project directly to the investor. Once again, you can sort by different parameters, including by role of participation in the project.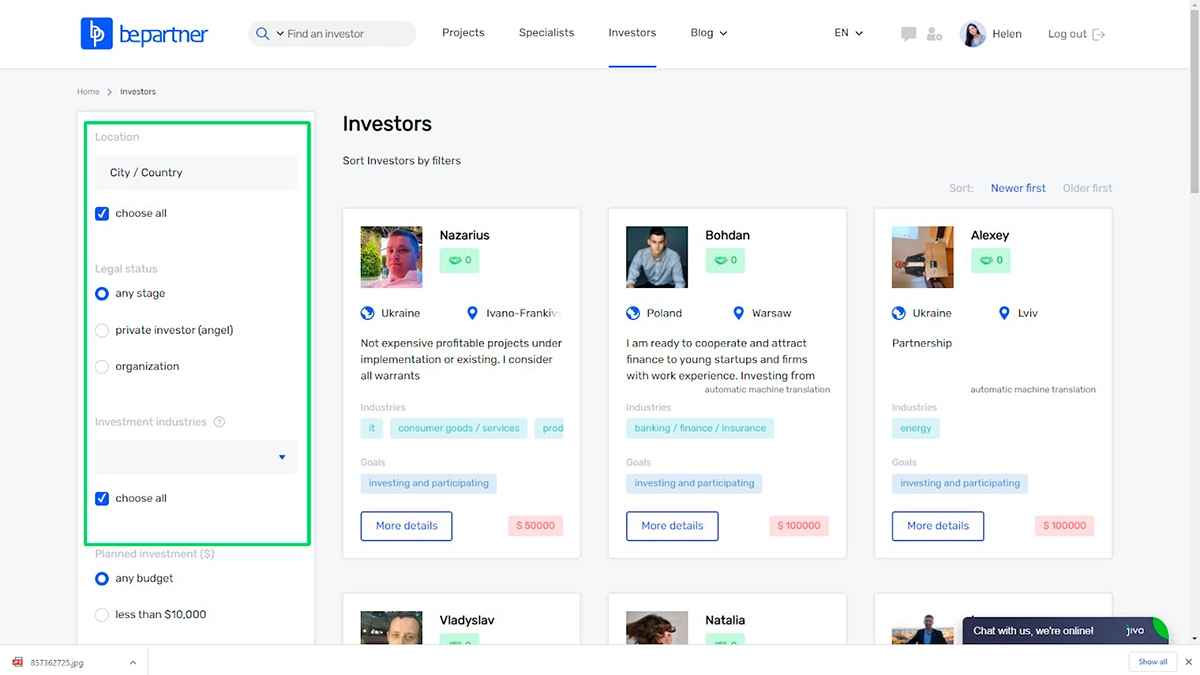 I want to become a partner, how do I contact the founder of the project?
In order to initiate correspondence with the project founder, you need to register and fill in your "Specialist"/"Investor" questionnaire, or add your project.
After publishing your Investor, Initiator or Specialist profile, go to the project catalog, select the project you are interested in, click "project details" and send a partnership request by adding a cover letter to the request.
After the Project Founder has read your profile and approved your partnership request, you will receive a message both in your email inbox and in the message section of your personal profile.
With an approved partnership request, you can then move on to personal communication where you can discuss further details.
How much does the project publishing cost?
The service assumes the possibility of free use for all users. Extended options are provided to Project Initiators who have a paid Standard or Premium subscription.
To get a paid subscription, you need to have a Project published. Naturally you have the Basic plan. If you want to have an enhanced project display and priority in the project directory, an unlimited number of contacts and other benefits, you should choose the Standard or Premium plan.
You can compare the cost and options of packages in your personal account in the "Change plan" section or in the preview mode when publishing the Project.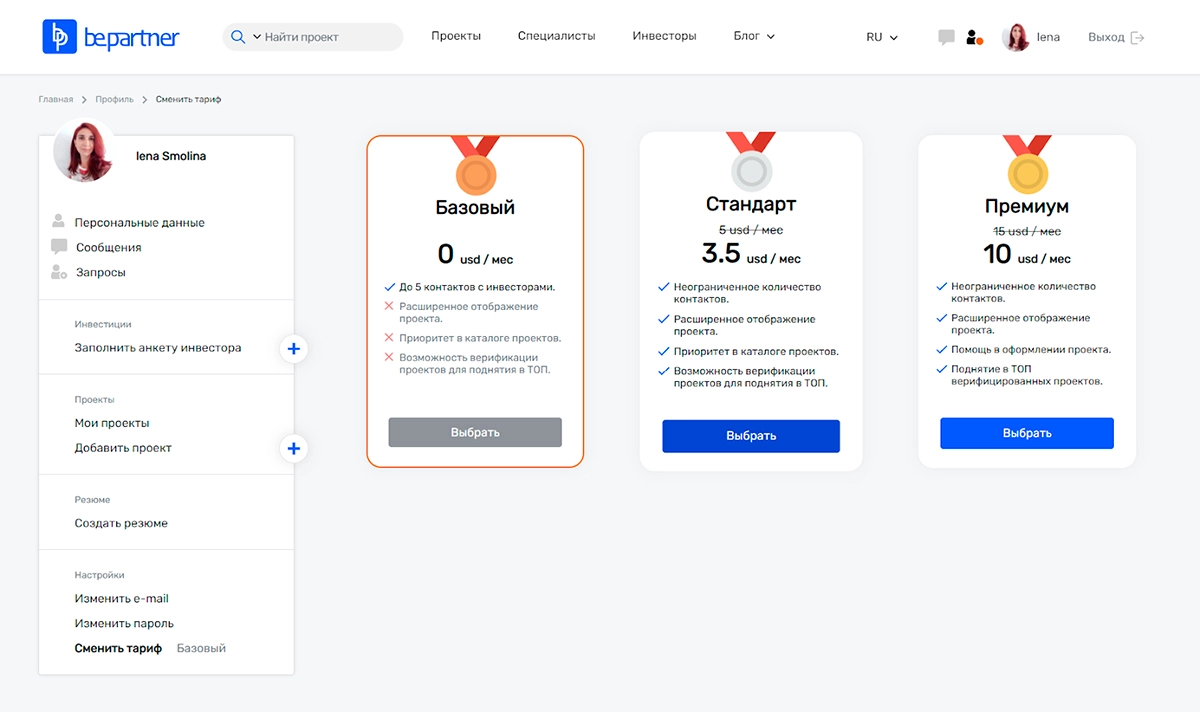 Select the plan you want to purchase and provide the payment.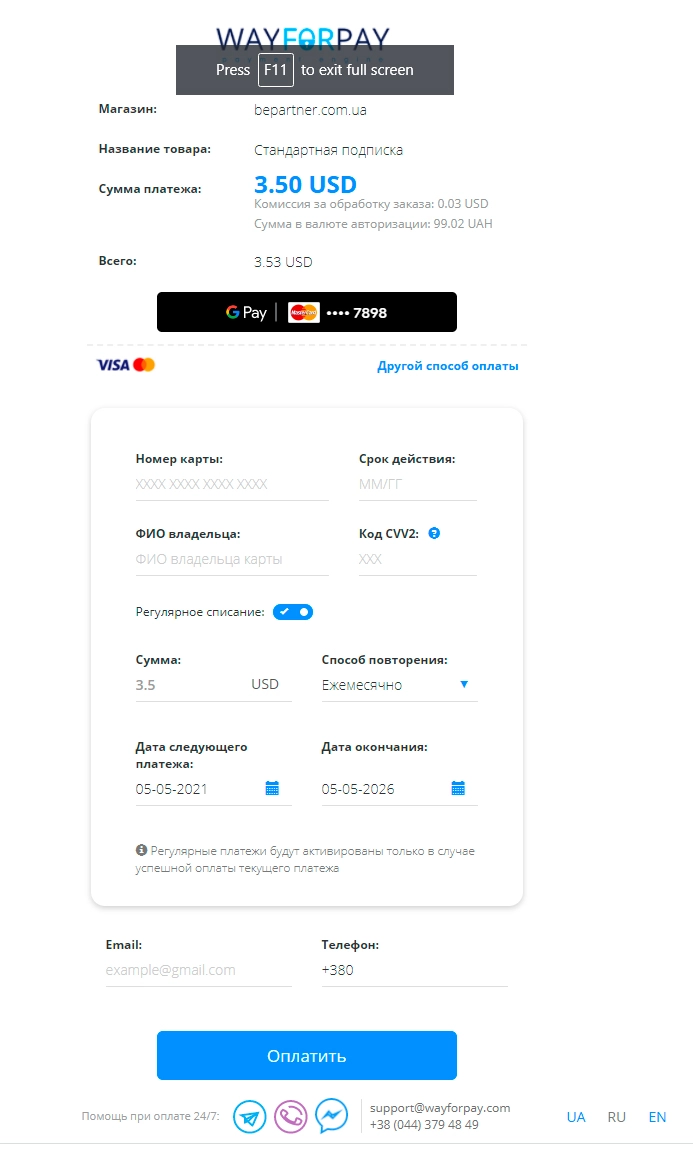 Success! After the payment, the options will be enabled - verification opportunity, picture of the project, unlimited contacts etc.
Canceling the subscription
If you want to cancel the subscription, simply select the "Basic" plan, it will be automatically changed at the end of your current subscription and the payment will not be charged again.
How and why to verify a project?
Projects that are displayed in the TOP of the catalog (and on the main page) are verified by the site administration.
A verified project indicates to a potential partner the seriousness of your intentions; that you pay attention to the quality of elaboration, development and promotion of your project.
In order to verify the project, you need to "Send a request for verification" from the preview section when publishing the project, or just drop the link to the project in the support chat
The site moderator will review your project, give his recommendations on the description, and then verify the project.
After verification, you can connect the Premium package and your project will be included in the TOP.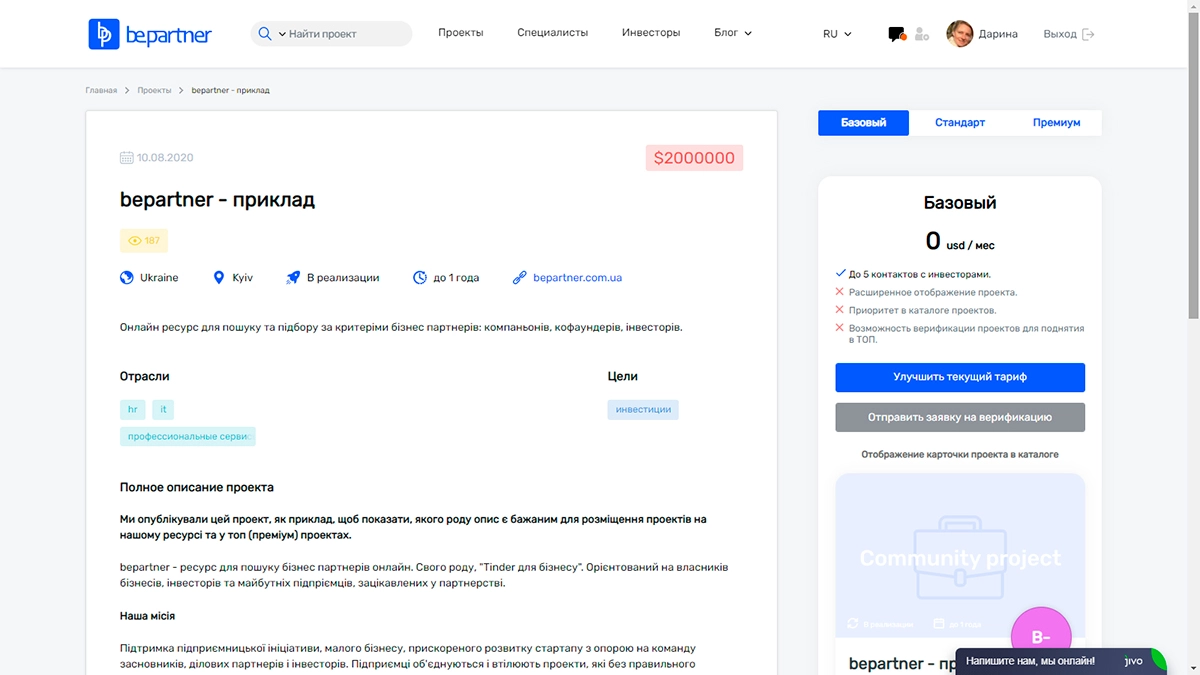 Before you send a request for verification of the project's apolnite fullest and accurately. This will help make your project attractive to potential partners on the site.
Use a high-quality photo of the project
Brief description - should reflect the essence of the project in 2-3 sentences in such a way that a potential partner will become interested in a quick look.
Full description - describe your project in sufficient detail, indicate its feasibility and advantages in the market. Your progress to date and expected performance.
If you are aiming at international partnership, fill out the questionnaire in 2 languages ​​- your native language and English. Attention: if you start filling out the questionnaire in an additional language, it is also mandatory to fill in all the fields (if necessary, use the online translators). If any field is not filled in, the questionnaire will not be saved.
Supplement your project with news or success
If your project is at an early stage, try not to look for an investor, but to offer a partnership to a specialist with the necessary competencies.